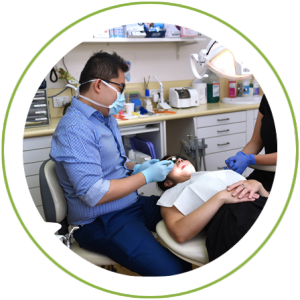 Is it time to have your wisdom teeth out? Whatever the case may be, First Dental Studio is proud to offer wisdom teeth extractions for every occasion—whether you're a teen or adult. Our practice utilises the latest technology in your care, making the treatment effective and quick.
Many patients opt to have their wisdom teeth removed for one of the following reasons:
1. They don't provide meaningful function. This is why we often recommend wisdom teeth removal for every patient eventually—after a while, they can do more harm than good!
2. They're causing pain. Wisdom teeth can cause pain as they erupt, making your mouth sore.
3. They're causing your teeth to shift. Because wisdom teeth take up a good amount of space in your mouth, you're more likely to deal with crowding and moving teeth. This can cause a once straight smile to go crooked.
4. They can irritate your gums. The longer your wisdom teeth remain intact, the more trouble they can cause for your gums, leading to infection or recession.
5. They're hard to clean. Located at the very back of your mouth, it can be nearly impossible to ensure you're brushing and flossing them properly.
If you're in need of having your wisdom teeth removed, consider scheduling a visit with our practice. Our team has helped thousands of patients just like you feel confident and comfortable in our care.
To book your visit, give us a call today. We look forward to seeing you!
Any surgical or invasive procedure carries risks. Before proceeding, you should seek a second opinion from an appropriately qualified health practitioner such as a Specialist Oral Surgeon.