Brisbane CBD Checkup and Hygiene Appointments
Preventative Care for a Healthy Smile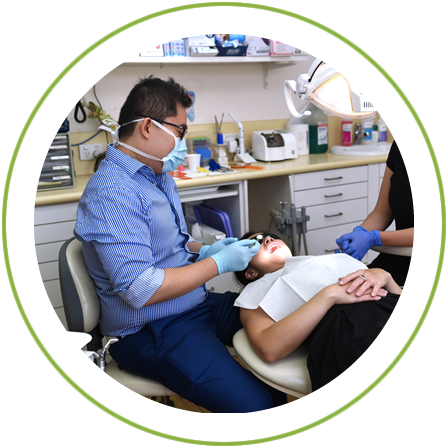 Book a preventative check and clean at First Dental Studio
At First Dental Studio, our team of oral health care professionals focus strongly on preventative measures to keep your smile healthy and in optimal condition. Just one of the ways we do this is with our check and clean appointments, which we advise our patients attend every 6 months.
Not only does this allow our dentists to effectively monitor and assess your teeth, mouth, jaw, and gums for any signs of concern, but it also helps us to treat any issues which arise before they turn into more complex (and therefore, more expensive) problems down the track. Additionally, every patient receives a thorough clean during their appointment, which removes build-up of plaque and surface stains.
What Does a Check and Clean Appointment Involve?
During your appointment, our professional dentist will perform a comprehensive assessment of key areas within your mouth, including teeth and gums. We also screen for signs of potential diseases. In some cases, radiographs may be required to help us obtain a more comprehensive overview of your oral health. The clean component of your appointment will involve a scale, polish and fluoride treatment.
This removes cavity-causing bacteria such as plaque, helping to prevent potential issues such as infection, inflammation, or irritation. Additionally, the application of fluoride treatment works to reverse early signs of tooth decay, plus it strengthens the enamel by making it more resistant to acid wear. During your bi-yearly check and clean appointments, our friendly dentists will also offer helpful oral hygiene advice, whilst providing you with a tailored treatment plan if necessary.
A Commitment to Dental Excellence
At First Dental Studio, we pride ourselves on taking the time to get to know each of our patients, whilst treating them as individuals. We love building relationships based on trust and understanding, so will always go that extra step further to ensure a patient has a comfortable and positive experience in our care. Because of this, you'll find that our checkup and clean appointments are more in-depth than other practitioners, as we simply do not believe in rushing our patients in and out of our doors.
Schedule An Appoinment Today
Our friendly and experienced team are always on-hand to address any questions or uncertainties you may have regarding treatment. In fact, we're only ever a phone call away! Is it time for your bi-yearly check and clean? Schedule an appointment with our team by calling (07) 3229 4121 today!
Any surgical or invasive procedure carries risks. Before proceeding, you should seek a second opinion from an appropriately qualified health practitioner such as a Specialist Oral Surgeon.


Dental Checkup Brisbane CBD | (07) 3229 4121