Custom Mouthguards & Dental Splints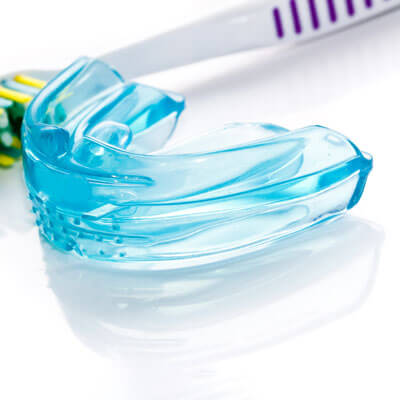 At First Dental Studio, we're pleased to offer patients our custom-made dental mouthguards and splints to provide an effective solution for protecting your teeth and preventing injury. Mouthguards are essential for anyone playing contact sports, and splints are designed to protect your teeth from the harmful effects of grinding and clenching your jaw.
Custom Mouthguards
Our custom-made dental mouthguards provide the best protection for your teeth during physical activity. We use mouth casts to fit the guard precisely to your teeth and mouth. This custom fit helps to prevent or reduce the chances of being knocked unconscious, tooth and jaw fractures, concussion, and injuries resulting from the lower jaw impacting forcefully up into the upper jaw, during a collision, for example.
Investing in a mouthguard can save you time, expense, and discomfort associated with cosmetic and restorative dental treatments. If you have crowns, veneers, or other types of prosthetic dental work, a mouthguard is essential to protect your valuable smile.
Dental Splints and Night Guards
Do you wake up with headaches or a sore jaw? You may be clenching your jaw or grinding your teeth. We can check you for excessive and uneven tooth wear. A custom-made night guard or dental splint is made from high-quality acrylic and is designed to absorb your bite force, protecting your teeth from further damage. It can also relieve the soreness in your jaw muscles and joints associated with grinding and clenching as you sleep.

Custom Mouthguards & Dental Splints Brisbane CBD | (07) 3229 4121