Teeth Whitening Brisbane CBD

Boost your confidence with a brighter smile that looks whiter and healthier.
First Dental Studio
offers affordable ways to brighten your smile safely and effectively. One of the easiest and most effective solutions is to simply erase deep stains and discolouration from your teeth with our professional teeth whitening treatment.
First Dental Studio offers two primary methods to professionally whiten your teeth: in-chair power whitening and take-home whitening that is professionally guided. The first provides same-day results, while the other allows for better flexibility to use on your own time.
In-chair, Same-day Bleaching
If you're short on time or looking for dramatic results in just one day, then our professional in-chair teeth whitening system is an excellent choice. First Dental Studio utilizes ZOOM! Whitening's safe and effective solutions that help to naturally lift deep stain particles within the porous surface of your teeth. The light-activated gel oxidises stain particles to quickly lift deep discolorations in the porous surfaces of your teeth.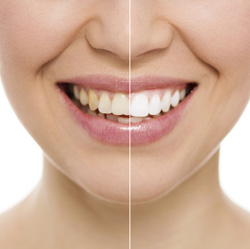 In chair and take home teeth whitening treatments will make you smile
Choosing ZOOM! Whitening comes with perks like:
Same-day results
No trays or gel
Last-minute smile enhancement
When you're on the go or have a last-minute special event (such as an important job interview), ZOOM! Whitening instantly enhances your best accessory: your smile.
The whitening treatment results can last up to two years – but the treatment itself only takes about 90 minutes so you could even do it in a longer lunch break with our handy Brisbane city dentist location! Enhance your smile with our teeth whitening options.
Take-home Whitening Trays
Not in a rush? Our custom-fitted whitening trays can be used at home and are perfect for topping off between checkups. If you have sensitive teeth, simply alternate the days you wear your trays instead of back-to-back treatments. We'll select the best blend of gel and concentration for your level of stain and tooth sensitivity, if applicable.
Plan to wear your whitening trays about an hour a day for up to two weeks. Keep your gel stored in a cool, dry place so that you can top off after your six-monthly checkups. People who drink a lot of coffee or tea may need to re-apply gel more frequently.
Teeth Whitening FAQ
Will whitening make my teeth sensitive?
Whitening can make some people's teeth feel sensitive. Working with an experienced dentist can limit any unnecessary discomfort. Especially if it's due to decay or gum infections. We will show you how to safely use whitening gels in a way that reduces potential discomfort while still providing great results. It can also be helpful to use a toothpaste blended for sensitive teeth leading up to your whitening procedure.
Can I whiten my teeth if I have porcelain crowns or bridges?
If your tooth-colored restorations are in what we would call your 'smile zone', it's important to note that they will not whiten the same way your teeth do. Bleaching the adjacent teeth may cause your crown or bridge to stand out more due to the colour difference. But if you're due to update those restorations, you can whiten first and then we will match the newer dental work to the brighter shade of your smile.
Are there requirements to meet before teeth whitening?
Whitening agents are designed for healthy teeth. If you have active decay or gum disease, those infections will need to be treated first. An exam is required prior to starting any type of whitening regimen.
Should I bleach my teeth before other treatments?
Teeth whitening is a great way to jump-start your smile makeover. If you're planning to get other restorations updated (even if they're just small fillings) it's best to go ahead and start with a whiter smile to match those materials to. You may find that whitening is the only step you need to help your smile look its best.
Which works better, whitening trays or ZOOM?
Both professional teeth whitening treatments offer dramatic results. Whether one is 'better' or not typically depends on your personal needs and time restrictions.
Everything from age and environment to the foods and drinks we consume can influence the colour of our teeth. Anything that would stain a white shirt has the potential to cause tooth stain.
Do over-the-counter whitening strips work?
Commercial whitening products may be helpful for milder stain. However, they use a weaker concentration of ingredients and may not provide the full-contact, even results that you will get with a professional treatment.
Is Teeth Whitening Right for You?
Contact us today to ask about our ZOOM! teeth whitening special offer.
Contact Us »
Any surgical or invasive procedure carries risks. Before proceeding, you should seek a second opinion from an appropriately qualified health practitioner such as a Specialist Oral Surgeon.

Teeth Whitening Brisbane CBD | (07) 3229 4121