Dental Crowns and Bridges in Brisbane CBD
Restore and Enhance Your Smile at First Dental Studio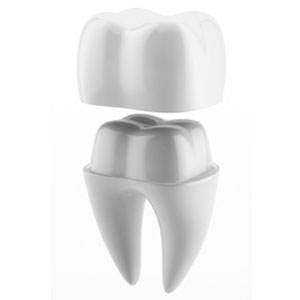 If you have missing or broken teeth which are affecting your smile, then a dental crown or bridge may be the perfect cosmetic dentistry solution for you. Not only do they help to restore your teeth, but they also enhance it aesthetically to give you the more confident smile you deserve.
Whether your treatment consists of a crown or bridge, you can be assured that each restoration is customised to look and feel as close to your natural tooth as possible. Additionally, our dentists use the safest and highest quality materials in all of our dental work, so you can rest easy knowing you're in reliable hands.
Dental Crowns
A crown is essentially a 'cap' that covers the entire visible tooth surface, recreating its appearance as well as its stability. Before placing your crown, we remove any cracked or decaying enamel and take an impression of the tooth. Then, a custom white crown is made of durable aesthetic materials and bonded over the tooth to protect it. The entire process takes about two visits to complete.
Crowns act as a remedy for a number of dental issues and help to restore a tooth that is suffering from any of the following:
Loss of structure and strength due to root canal therapy
A large crack or chip
A large filling
Severe tooth decay
Tooth wear
Additionally, crowns are placed in association with dental implants to act as an artificial tooth.
Fixed Dental Bridges
Unlike single-tooth crowns, bridges span across gaps left by missing teeth, anchoring each end of the bridge over a healthy support tooth. The ends of the bridge have a functional crown, where a pontic (false) crown or two is bonded between them. This is known as a multi-tooth restoration.
Bridges can also be placed on top of dental implants to replace up to 5 teeth at once.
Crown and Bridge FAQ's
A dental crown is like a cap that fits over your natural tooth to provide improved function and integrity. Typically, a crown is recommended when there is too little tooth structure left to support a filling, or in cases of chipped or cracked teeth as well as teeth that have undergone a root canal. A crown covers your tooth and looks entirely natural, is durable and allows you to chew and speak just as you normally would. They are also colour matched to your teeth so they look just like a natural tooth.
A bridge is two or more crowns that are joined together, which is usually done to replace a missing tooth. Commonly, a crown will be placed on the teeth located on each side of the missing tooth with a third crown joined to these to replace the missing tooth.
How do I know if I need a crown or bridge?
If you have a damaged tooth which is worn down or cracked, a crown may be your best option to restore its life and protect it from further damage.
Am I a candidate for crowns or bridges?
You need to make sure that you have healthy gums before getting a crown or a bridge. Since your teeth are what will hold your restoration in place, the gums around them must be in good shape.
How long do dental crowns and bridges last?
A properly maintained dental crown should last between 5-10 years. We offer a 1 year warranty on our ceramic crowns. It's important to brush and floss around these restorations daily. If flossing is difficult or the use of a floss threader isn't helpful, consider using a water flosser instead.
Will my new tooth look natural?
We select specific shades and types of materials so that your crown or bridge blends in with neighboring teeth as best as possible. The goal is to create it so that other people can't tell the difference! Thanks to today's advanced materials, modern crowns and bridges look as close as possible to natural teeth.
Any surgical or invasive procedure carries risks. Before proceeding, you should seek a second opinion from an appropriately qualified health practitioner such as a Specialist Oral Surgeon.

Dental Crowns & Bridges Brisbane CBD | (07) 3229 4121