Smile Makeovers Brisbane CBD
Investing in a beautiful, confident smile is one of the best gifts you can ever give yourself. When you feel great about the way your teeth look, you'll want to show them off wherever you go. Our Brisbane CBD cosmetic dentistry options can help you achieve a healthy-looking smile that's whiter, straighter and healthier looking.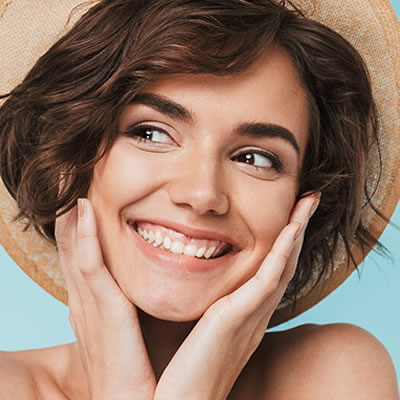 Cosmetic Dentistry Options
Teeth Whitening
A bright smile is a perfect template for gorgeous teeth. Whitening is an excellent option for a stand-alone smile enhancement. It can also be paired with other treatments, such as dental veneers or clear aligners, to maximise the overall impact of your cosmetic treatment.
We recommend whitening your teeth before other restorative therapies, so that the updated restorations can be matched to your current tooth colour. Choose between a single-visit whitening treatment or a pair of custom whitening trays to use at home.
Veneers
Dramatically enhance your smile with custom dental veneers. These thin porcelain or composite resin restorations help your teeth look straighter, fuller and whiter in just a few visits. Instantly mask small gaps, crowding or minor surface flaws for a brand-new smile. Be sure to ask about combining veneers with our professional in-house whitening option!
Quick Straight Teeth™
With QST, you can quickly straighten the front teeth in your 'smile zone', rather than wearing braces throughout your entire mouth. By only focusing on the visible teeth, you can reduce your time in braces by over a year. Most of our QST clients see full results in as little as six months.
Invisalign Aligners
Enjoy proven tooth alignment treatment with the leader in the clear braces industry. Invisalign trays are proven to be effective for a wide range of bite needs. Most clients complete their Invisalign treatment in less time than traditional braces.
ClearPath®
These attachment-free clear aligners are extremely discreet. Each digitally mapped alignment tray guides your teeth into the desired position using USFDA-approved technology. The absence of attachments on your teeth ensures the most invisible braces experience possible.
Should I Invest in a Smile Makeover?
If you feel embarrassed or self-conscious about the way your teeth appear, you might instinctively refrain from smiling, taking photos or even laughing around friends. Having healthy, attractive teeth can help you feel more comfortable in social settings, not to mention make a great first impression with your smile. Our variety of cosmetic dentistry options allow you to curate your smile makeover to fit your unique personal goals, budget, timeline and preferences.
Depending on your needs, we may recommend combining one or more services for the best aesthetic outcome. For instance, many of our clients prefer to straighten their teeth with aligners, then whiten them afterward. We can guide you in selecting the most appropriate cosmetic dentistry choices, as they relate to your unique smile's needs.
Reserve a Consultation Today
Are you considering a smile makeover, clear aligners or cosmetic dentistry? Contact us today to reserve a no-pressure consultation and custom treatment plan.
Contact Us »
* Any surgical or invasive procedure carries risks. Before proceeding, you should seek a second opinion from an appropriately qualified health practitioner such as a Specialist Oral Surgeon.

Smile Makeover Brisbane CBD | (07) 3229 4121