Restorative Dentistry
If you have missing or damaged teeth, you may feel reluctant to smile and find it challenging to chew properly. At First Dental Studio, we offer restorative dentistry, which focuses on the restoration and maintenance of natural teeth, as well as the replacement of missing ones.
At First Dental Studio, we offer the following services to restore patients' smiles: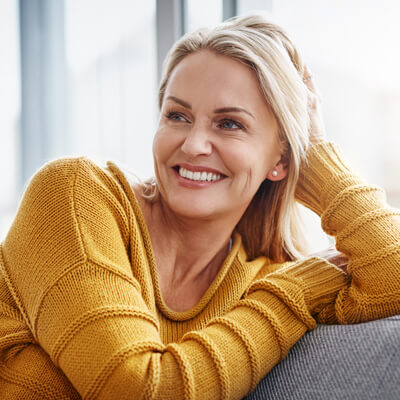 Crowns »
A dental crown is a prosthetic device placed over a damaged, decayed or weakened tooth to restore its size, shape, strength and appearance. Also known as a cap, this type of restoration can also be used to improve the look of a tooth or anchor a dental bridge in place. It can also be used on implants, as well as natural teeth.
Bridges »
A dental bridge is a type of dental restoration that helps replace a missing tooth or teeth. It involves using one or more artificial teeth, known as pontics, which are supported by two dental crowns on either side of the gap, connecting them together and securing them in place.
Dental Implants »
A dental implant is a titanium post surgically placed into the jawbone, where it acts as an artificial root for a missing tooth. The post has a screw-like head, which allows it to securely hold the replacement tooth in place. Dental implants are designed to look, feel and function like natural teeth.
Frequently Asked Questions
What is restorative dentistry?
This type of dentistry focuses on repairing or replacing damaged or missing teeth. The primary goals are to improve oral health and function.
People with damaged or missing teeth can benefit from this type of dentistry. If you have tooth pain, we can assess the underlying cause, which may require restorative dentistry to resolve your pain and restore teeth to health.
Is this type of treatment covered by health funds?
Often, a patient's health fund covers restorative dentistry. Of course, each health fund and coverage are different.
We gladly accept all health funds and are preferred providers for many popular ones.
Yes, with HICAPS on-site, we can process all health fund claims on the spot. If you have a co-payment to pay, your on-the-day out-of-pocket expenses are only the difference between the cost of treatment and your health fund rebate.
Yes, we accept payment via AfterPay and ZIP.
Book an Appointment
Contact us today to schedule an appointment!
Contact Us »
* Any surgical or invasive procedure carries risks. Before proceeding, you should seek a second opinion from an appropriately qualified health practitioner such as a Specialist Oral Surgeon.

Restorative Dentistry Brisbane CBD | (07) 3229 4121