Children's Dentistry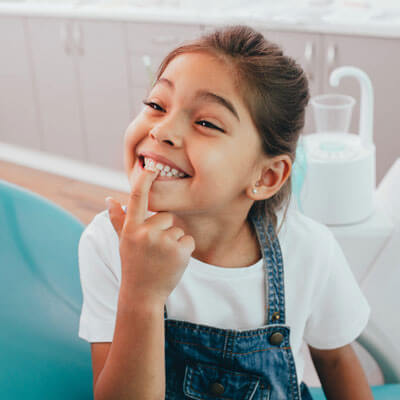 At our practice, we understand that for some children, going to the dentist can be a daunting experience. That's why we want to make sure visiting us is always a positive experience for your child. Our goal is to help motivate children to take good care of their teeth and see a dentist regularly throughout their life.
At our friendly dental practice located in the heart of the CBD, our staff goes out of their way to make your child's visit comfortable and fun.
For Younger Kids
At our practice, you can bring your child to meet the dentist from a young age. Even if it's just for a quick look at their teeth, it can help get them familiar with the sights and sounds of the practice. We can also speak with parents about proper brushing techniques and oral hygiene to help ensure that your child is starting off on the right foot.
If you have a baby who is having trouble nursing, we can evaluate them to see if there is a physical cause in the mouth that may be causing the issue. The first official trip to the dentist for most children is usually around four years old. At this point, they usually have all their baby teeth and are more able to understand what's going to happen during their visit.
It's also important to note that if your child has any sort of trauma to the mouth, they should immediately see a dentist. Even if they only have their baby teeth, it's important to assess the injury to prevent damage to their adult teeth.
For Older Kids
Twice annual check-ups and cleanings are important for maintaining good oral health and overall health. We recommend that your child comes in for a check-up every six months, so we can catch any issues before they become bigger problems. Additionally, we offer a range of orthodontic options to help your child get the straight, healthy smile they deserve.
If your child plays sports, it's important to protect their teeth from damage. We offer custom-fitted mouthguards that can be worn during training and sporting games to help prevent dental injuries.
Serving Private Schools in the Area
We are conveniently located in the CBD and are happy to serve families from all over Brisbane. Specifically, we know that parents from nearby private schools are always looking for high-quality dental care for their children. If you have a child who attends one of the following schools, we would be happy to serve you:
Brisbane Grammar School
Brisbane Central State School
Brisbane Girls Grammar School
St Joseph's College, Gregory Terrace
All Hallows' School
Fortitude Valley State Secondary College
Kelvin Grove State College
For parents of younger children, we also serve families from the following childcare centres:
Guardian Childcare & Education Charlotte Street
The Learning Sanctuary Mary Street
Goodstart Early Learning Brisbane – Adelaide Street
Goodstart Early Learning Brisbane – Ann Street
Get Started Today
We look forward to providing your family with the highest quality dental care in a friendly and comfortable environment. Learn more about our services today by booking a visit with us.

Dental Checkup Brisbane CBD | (07) 3229 4121