Invisalign® in Brisbane CBD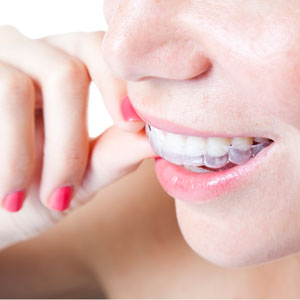 Do you shy away from smiling due to imperfect teeth? The fact is, most people aren't born with a perfectly aligned smile. The good news, however, is that you can do something about it right now with Invisalign! With this advanced orthodontic system, you can straighten your teeth discreetly, comfortably and conveniently. At First Dental Studio, our dentists are qualified to provide clear aligner orthodontic treatment.
Have you heard about
How Does Invisalign Work?
Using a series of transparent, BPA-free, plastic aligners, Invisalign progressively shifts teeth into the preferred position over time. Thanks to the virtually clear aligners with built-in patented technology, you can achieve a straight smile without everyone knowing it.
What to Expect
To find out if this clear aligner system is right for you, contact our practice to schedule a consultation. Your dentist will let you know if your case is eligible for this treatment. The consultation takes just 10-15 minutes.
Moulds, photos and X-rays would be taken and then sent to Invisalign to come up with a treatment plan customised to your teeth. Our dentists will provide a Clincheck for you so you can digitally visualise the entire treatment sequence and the results you can expect.
Based on your treatment plan, a series of custom-fabricated clear aligners will be made. We will prescribe a new set of trays every 10-14 days. It's essential that you wear the trays for 22 hours a day to get the best results. You will remove them only to eat and brush and floss your teeth.
Our dentists will be able to adjust the treatment plan to cater to your specific needs and aesthetics.
What Are Some Benefits?
Here are the primary benefits of this type of aligner system:
Comfortable: As the aligners don't have brackets and wires they are more comfortable than traditional braces.
Removable: You can eat what you want as you remove the aligners during mealtime. Maintaining your oral hygiene regimen is easy too!
Confidence-Boosting: You'll feel more confident with a beautiful, straight smile.
Frequently Asked Questions
As every case is different, including the length of time the aligners are worn, costs will vary from patient to patient. During your consultation you will be provided an accurate quote, so you know exactly how much your treatment will be.
Why should I consider Invisalign instead of traditional braces?
While conventional metal braces are undoubtedly effective in aligning one's smile, they can be uncomfortable, and they are conspicuous. Conversely, with this advanced orthodontic system, you can discreetly straighten your teeth without anyone else knowing-unless, of course, you tell them.
Will I need adjusting appointments?
No! Those who choose to get traditional metal braces need to go to the orthodontist periodically so their braces can be adjusted and tightened in order for teeth to shift towards alignment. With Invisalign, however, you are only required to wear a tray for a particular period and then move onto the next set to be worn-to help gradually move your teeth into place.
You also don't have to experience all those uncomfortable tightening appointments. And you'll also save time because you won't have to come in for multiple appointments.
How long will my treatment take?
The length of treatment will be different from person to person as some individuals have more complex cases. The average treatment time, however, is 12-18 months. During your consultation, you will be informed of the expected length of treatment.
Since having my braces removed, my teeth have moved. Can Invisalign treatment correct this?
Yes, the clear aligners can address virtually all common teeth-straightening issues, whether they're simple or complex. Many people who had braces in the past choose this advanced orthodontic system because it offers a discrete way to improve their smile when they notice that their teeth have reverted to their previous state.
Can you guarantee that Invisalign will give me straight teeth?
Because every person's smile is unique, having a consultation is the first step. Your consultation with our trained dentists will help you determine how this orthodontic treatment can straighten your smile. While we can't guarantee specific results, you should communicate your treatment goals at your consultation.
Is treatment suitable for adults and teens?
Yes! Invisalign treatment can be an excellent solution for both adults and teens looking for a practically invisible way to enhance their smile. Thanks to the system's technological advancements the treatment can effectively correct just about all of the common teeth-straightening and bite concerns, ranging from simple to complex ones. Perhaps best of all, wearing the clear aligners won't interfere with your busy lifestyle.
Wondering if your teen is wearing their aligners? Invisalign has a solution for that. A discreet blue dot is featured on the outside of teen aligners, allowing parents to be sure that their teen is wearing their clear aligners for the required period of time.
What are some reasons why teens might like this aligner system versus traditional braces?
Because Invisalign clear aligners are composed of SmartTrack material, they are considerably more comfortable and easier to put on and remove. With Invisalign, teens also can take out the aligners while playing sports or eating their favourite foods. The most obvious advantage of this orthodontic system is the aligners are discreet. Teens won't have to shy away from smiling as they might do while wearing metal braces.
What kinds of issues can crowded teeth cause?
If your teeth are crowded, it can make it challenging to brush and floss effectively. As a result, plaque, tartar and bacterial can build up. Over time, such buildup can lead to tooth decay and gum disease. Your crowded teeth also can worsen over time.
Can Invisalign clear aligners correct crowded teeth?
Yes, the clear aligners can effectively address crowded teeth. We can go over the different ways this orthodontic system can improve your smile.
Yes! We offer the Zip Money payment plan which allows you to spread out the costs of treatment over 24 months, interest-free.
Ready To Enhance Your Smile
If you'd like to enhance your smile discreetly with Invisalign, contact us today to schedule a consultation!
* Any surgical or invasive procedure carries risks. Before proceeding, you should seek a second opinion from an appropriately qualified health practitioner such as a Specialist Oral Surgeon.

Invisalign Brisbane CBD | (07) 3229 4121