Brisbane CBD QuickStraightTeeth™ (QST)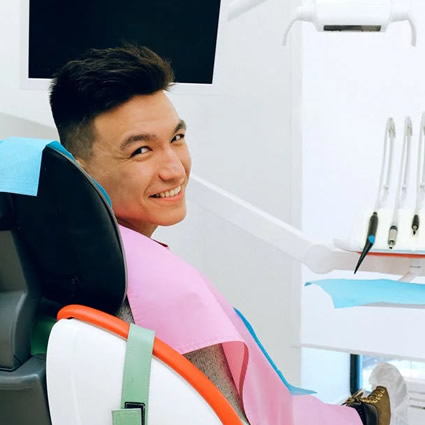 Do you wish you could straighten your front teeth quickly? You can thanks to QuickStraightTeeth (QST)! This fast cosmetic orthodontic system improves the alignment of teeth in your "smile zone," the area that most people see when you smile. Instead of realigning your entire mouth, you can enhance your smile's appearance through this fast cosmetic braces system.
Because it is aesthetic in nature, QST takes approximately six months for most cases to achieve tooth alignment at the front of your mouth. You won't have to spend two or three years in braces!
Our dentists have completed the Quick Straight Teeth Short Term Orthodontic Treatment Certification Course, making them both Quick Straight Teeth Certified Dentists.
How Does It Work?
The QST system is the system that we use to help our patients achieve the perfectly aligned smile that boosts confidence. Unlike traditional metal braces, our QST system is highly affordable and much more comfortable.
The system is designed to improve your smile by focusing on the front 6-8 teeth- the ones that show the most. Using a combination of invisible and tooth-coloured aligners and brackets, we can straighten your teeth and give you a beautiful smile in less than six months.
What Are Some Benefits?
Quick
Discreet
Affordable
Comfortable
What to Expect
Your dentist will take intraoral photos and submit them to QST's online forum to determine if your case is eligible for the orthodontic system.
A full orthodontic assessment will be performed.
We will forward the impressions and bite to the QST lab.
QST will send back to our office the bonding tray and brackets.
Your dentist will apply the brackets, trays and archwire.
FAQ
How long will my treatment take?
Every case is different, of course, but typically it will take 4-24 months, depending on the complexity of your case.
As every case is different, including the length of time the aligners are worn, costs will vary from patient to patient. During your consultation with Dr Vincent, Dr Allen, or Dr Sima you will be provided an accurate quote, so you know exactly how much your treatment will cost.
Will people know I'm wearing braces?
Because the brackets and wires used with QST are tooth-coloured they are inconspicuous, unlike traditional metal braces.
No, just the opposite! The QST braces are designed to ensure maximum comfort.
Why is QST more affordable than other orthodontic options?
Reduced treatment time means reduced cost. In addition, thanks to low production time and fewer resources required to construct the orthodontic system, QST is recognised as one of the most cost-effective orthodontic systems on the market.
Will I need to wear a retainer after my treatment?
Yes, as you've made an investment in your smile, you will want to retain the results so your teeth don't revert to their former position. We will provide you with a retainer as part of your treatment.
Book a Free Consultation
We offer free orthodontic consultations**! Schedule a consultation at First Dental Studio to find out how we can help you achieve a straighter smile with Brisbane CBD QuickStraightTeeth.
Contact Us »
* Any surgical or invasive procedure carries risks. Before proceeding, you should seek a second opinion from an appropriately qualified health practitioner such as a Specialist Oral Surgeon.
**Terms and Conditions apply


QuickStraightTeeth™ Brisbane CBD | (07) 3229 4121