Dentures in Brisbane CBD
Full and Partial Denture Options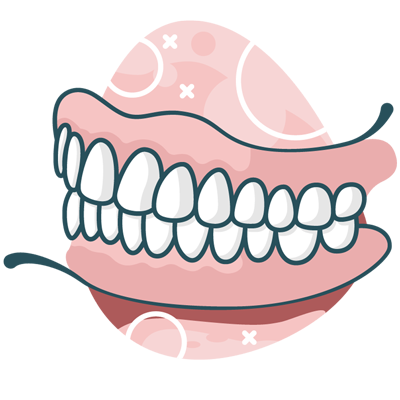 First Dental Studio offers partial,
complete and immediate dentures.
When you have several missing teeth that need to be replaced, our custom dentures are an affordable and effective option to consider. At First Dental Studio, our professional team offer a variety of denture designs to choose from, helping patients to select the perfect alternative when a bridge or implant isn't the desired treatment.
Along with our popular full and partial denture options, we can also provide same-day dentures for added convenience. Dentures have come a long way since the past, and today's appliances offer both a more natural-looking and comfortable experience.
Partial Dentures
A partial denture is a prosthesis that clips in and out around your remaining healthy teeth. In fact, it uses those teeth to stay securely in place throughout the day. Partial dentures allow you to preserve as many natural teeth as possible, avoiding additional extractions.
Full Dentures
A full arch denture is a straightforward solution to replacing all of the upper or lower teeth at one time. These dentures (often referred to as "plates") are used when there are no remaining teeth. Each one is made to stay in place using suction between the acrylic materials and your soft tissues. In certain cases, dental implants are sometimes used to secure the fit from day to day.
Same-day Dentures in Brisbane CBD
Thanks to our highly-experienced team, along with our technologically-advanced equipment, we are also able to offer same-day dentures in some circumstances.
These immediate dentures are used when you need to have several teeth extracted but do not want to go without a smile prosthesis as you heal. This kind of denture is placed immediately after your surgery and then adjusted later once your oral tissues have recovered.
Caring for Your Dentures
As with any dental prosthesis, it is vital that you focus on oral hygiene practices to keep your dentures in the greatest condition possible. You should remove and rinse them after eating, plus it's important that you brush your dentures at least once per day.
Additionally, dentures should be soaked overnight in a denture cleaning solution. This helps to keep them moist, allowing the dentures to retain their shape.
Find Out What Alternative Is Right For You
If you want to learn more about dentures or are interested in finding out which type of tooth replacement alternative is right for you, please contact First Dental Studio today!
Contact Us »
Any surgical or invasive procedure carries risks. Before proceeding, you should seek a second opinion from an appropriately qualified health practitioner such as a Specialist Oral Surgeon.

Dentures Brisbane CBD | (07) 3229 4121