General Dentistry Brisbane CBD
Our comprehensive general dentistry services help you keep your teeth healthy for the years ahead. From preventative care and early intervention to tooth removal and reconstruction, we have everything your smile needs.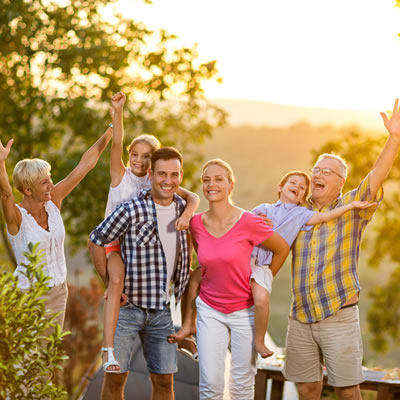 Custom Care Plans
Depending on what your teeth have been through, we'll curate a care plan that outlines the best treatments for your situation. As we help you achieve optimal oral health, we'll share the resources you need to care for your teeth and gums, reducing the extent of treatment you need in the future. Some of our services include
Check and Cleans
Six monthly preventative care visits allow us to routinely screen for and intercept concerns while they're still small. During your appointment, we'll check for decay, gum disease and oral cancer. As part of your professional clean, we'll also show you ways to care for your smile more effectively between checkups.
Dental Extractions
Sometimes teeth are severely decayed, causing pain, or are non-restorable. Removing them typically provides the fastest form of pain relief, limiting the spread of infection into adjacent teeth. We'll also work with you to find a solution for permanent tooth replacement after your dental extraction (so that other teeth don't shift out of alignment).
Periodontal Treatment
Gum disease can impact more than just your smile; it's also a serious risk to your overall health. If you have gums that bleed easily, bad breath or gum recession, periodontal therapy can help you avoid unwanted tooth loss. By establishing a healthier smile, you can also boost your immune system.
Dental Fillings
Cavities can easily spread into your tooth or adjacent teeth unless they're intercepted quickly. By removing the area of decay and re-building that space with a filling, we can preserve your tooth structure and avoid more extensive forms of treatment. We use minimally invasive white filling material that's safer for teeth and more attractive when you smile.
Dentures
Quickly replace all your missing teeth at one time. Full and partial denture options are available, allowing you to preserve healthy teeth for as long as possible. Enjoy a customised prosthesis formed specifically to your mouth for a more comfortable fit. You can even choose how you'd like your smile to appear.
Root Canal Treatment
Gentle endodontic treatment (root canal therapy) is one of the last lines of defence for damaged or dying teeth. If you have a dental abscess or experience tooth trauma, it's best to remove the nerve and fill the open canal before your tooth becomes non-restorable. Most root canals are followed with a protective crown.
Wisdom Teeth Removal
Impacted third molars can cause pain, pressure, cysts and damage to the adjacent teeth. If your wisdom teeth are partially erupted, they are at an increased risk of infection. Proactive removal can alleviate swelling and unwanted side effects.
Children's Dentistry
Our approach to children's dentistry means we make kids from toddler to teens feel comfortable at the dentist and empowered to care for their oral health. We help motivate children to take good care of their teeth at home and understand the importance of regular check ups and cleans at the dentist throughout their life.
Emergency Dentistry
Whether you have tooth pain, a broken tooth, or another urgent concern about your oral health we are here to help! We provide prompt and comprehensive emergency dental care to help you get back to feeling your best. We can provide a complete solution to solve the problem or provide a temporary treatment that will protect your teeth and keep you comfortable until you can see your regular dentist.
Reserve Your Next Appointment
Has it been six months or longer since your last dental exam? Do you have a tooth that's bothering you? Contact us today to schedule a checkup.
Contact Us »
* Any surgical or invasive procedure carries risks. Before proceeding, you should seek a second opinion from an appropriately qualified health practitioner such as a Specialist Oral Surgeon.

General Dentistry Brisbane CBD | (07) 3229 4121