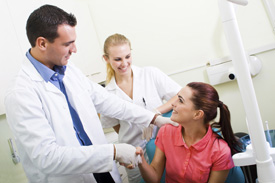 Keeping your pearly whites sparkling clean and healthy involves more than just brushing and flossing. Visiting your dentist for a check and clean every six months goes a long way towards helping you maintain optimal oral health.
Here are 5 reasons why you should see your dentist twice a year:
Detects Dental Problems. One of the benefits of seeing your dentist twice a year is that your dentist can identify any dental concerns such as decay, teeth grinding, or even oral cancer. By detecting any concerning issues early, we can provide you with prompt and effective treatment.
Protects You From Gum Disease. Red, inflamed gums often indicate periodontal or gum disease. While brushing twice a day and flossing daily can reduce your chances of getting gum disease, seeing your dentist for professional cleaning is essential as well.
May Help to Improve Overall Health. When your teeth and mouth are healthy and free from infection or decay, you may enjoy better overall health.
Can Help You Keep Your Teeth. Want to avoid wearing dentures in the future? Keeping your teeth healthy so they last a lifetime includes visiting the dentist for routine checkups.
Helps You Look Your Best. While fashion trends come and go, one accessory that is always in style is a stunning smile. Healthy, beautiful teeth can help boost your self-esteem and convey confidence.
At First Dental Studio, we look forward to helping you and your family smile brightly now and for a lifetime. Book your check and clean today!