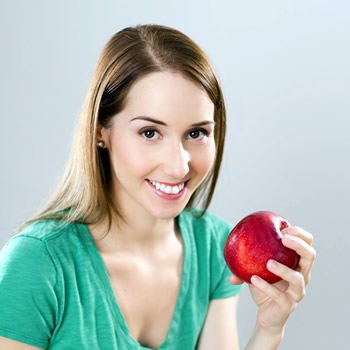 Just about everyone knows that regular professional cleanings can help keep our mouth, teeth and gums healthy and last a lifetime. For some of us, the standard, twice-annual visits are perfect. For others, once a year works well.
Now that we offer Afterpay, your $190 exam, X-ray and cleaning can be paid for in four equal fortnightly payments of $47.50. It makes it affordable for just about anyone who has put off attending to the health of his or her smile.
And while we recommend a thorough examination and professional cleaning before obvious symptoms, here are some warning signs that you may be overdue.
1. Trouble eating – If you experience discomfort when biting, chewing or swallowing, seek professional help. This can be an early warning sign of various cancers, or something far less serious. Schedule a visit so we can put your mind at ease.
2. Bleeding gums – If you notice some "pink in the sink" when brushing your teeth, ring us for an appointment. This usually indicates some type of inflammation. A professional cleaning can begin the healing process and help prevent gum disease and tooth loss.
3. Sensitivity – Have your teeth become sensitive to hot or cold? This may be a sign of worn tooth enamel or an exposed tooth root. Or, it could be a cavity, a hairline crack or a worn filling. These issues rarely resolve on their own and simply worsen with time. Take action now.
4. Dry mouth – If your salivary glands don't make enough saliva it can affect your ability to chew, swallow and even taste and digest your food. During your exam we'll attempt to determine its cause and suggest ways to remedy your situation.
5. Mouth sores – While often harmless, if you get persistent mouth ulcers or canker sores, we should take a look. Perhaps a simple dietary change can make a difference. We can explain possible lifestyle changes that could help as well as rule out more serious conditions.
6. Pain – Pain is not normal. It's a warning sign that something needs attention. If a thorough visual examination doesn't reveal the cause, X-rays often can. By the time obvious symptoms appear, the problem can be well advanced. Don't wait.
7. Jaw pain – General jaw pain could indicate something as simple as a cavity or issues with the temporomandibular joints. You can feel these joints by placing your fingers in front of your ears while opening and closing your jaw. As many as 1 in 8 people have this problem and it's something you'd want to get checked out.
If you have one or more of these signs, it's time to schedule an exam and cleaning. Not only will you be greeted with respect, our team of oral health care professionals has solved your financial concerns.
Buy Now Pay Later
We now offer AfterPay. Attend to your dental health now at First Dental Studio and pay for it in four equal payments every fortnight without interest. You'll love the convenience and be able to attend to your oral health concerns immediately.
Schedule an appointment with our team by calling (07) 3229 4121 today!