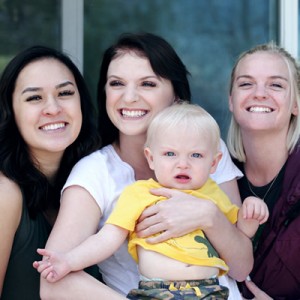 Do you find yourself covering your smile during photos or feel reluctant to smile when meeting others? Those with teeth that are misaligned often have less confidence, which can impact their daily lives. We can help!
At First Dental Studio, we offer clear aligners and fixed braces options to help you make your smile goals a reality. Each type is designed from clear or tooth-coloured materials that are virtually invisible when you're talking or laughing around others.
Adults
Perhaps you wish you had gotten braces as a teen. The good news is it's never too late for adults to straighten their smile. Advancements in orthodontic technology have come a long way.
Here's a look at our orthodontic offerings:
The ClearPath™ Choice
ClearPath "invisible" braces are slim aligners that move your teeth without brackets or wires. Two of our dentists are trained in providing this orthodontic option. With ClearPath, you can enjoy these benefits:
Eat whatever foods you like
Care for and maintain your teeth easily
Enjoy quicker follow-up visits
Achieve a straighter smile discreetly
Just wear your aligners for 22 hours a day. You will only remove them for brushing, flossing, and eating. Using a state-of-the-art digital mapping system, we will plan out your tooth movement so that you can progress to the next set of aligners for systemic tooth alignment. Dr Vincent Wan and Dr Allen Wan are both well-trained and certified in providing ClearPath™ aligner orthodontics.
Invisalign® Orthodontics
Get the straighter smile you've always wanted without having to wear conspicuous traditional braces. With Invisalign, you can enjoy invisible braces with individualised treatment plans that meet your specific requirements. Like ClearPath, your Invisalign aligners are removable and sent home in sets of three or four at a time. Invisalign treatment is ideal for those with a busy schedule. That's because you only need to see the dentist approximately every six to eight weeks. Dr Meena Hegde is qualified to provide Invisalign.
Quick Straight Teeth™ (QST)
Do you want to just focus on aligning the visible teeth at the front of your smile? If yes, Quick Straight Teeth (QST) is a great option! This fast cosmetic orthodontic system improves the alignment of specific teeth that matter the most to you. Instead of straightening all of your teeth, you can enhance your smile's appearance through this fast cosmetic braces system. QST takes approximately six months for most cases to achieve tooth alignment at the front of your mouth. Dr Vincent Wan and Dr Allen Wan have completed the Quick Straight Teeth Short Term Orthodontic Treatment Certification Course, making them both Quick Straight Teeth Certified Dentists.
Teenagers
Today's orthodontic processes make it simple to straighten teeth while going on with everyday life. Clear aligners offer a discrete solution with the flexibility to eat and drink what you want. Easy to clean and care for. Quick Straight Teeth focus just on the front teeth with treatment complete in six months on average. This orthodontic option is ideal for teens who want to improve the appearance of their smile quickly and effectively!
Three Major Benefits of Orthodontic Treatment
Boosts confidence
One of the greatest benefits of getting braces is how much it can increase someone's self-esteem. Often, people don't feel confident in showing off their teeth when they're crooked. This can lead to low self-esteem and anxiety. Braces are a temporary treatment option that can provide you with a beautiful smile that lasts a lifetime.
Decreases risk of oral disease
As your teeth straighten, the various nooks and crannies where bacteria and plaque lurk disappear. The plaque and bacteria buildup can lead to cavities and periodontal disease. If periodontal disease isn't treated, you can be more susceptible to serious medical issues such as cardiovascular disease. The link between gum disease and heart disease is well researched.
Addresses jaw issues
In addition to straightening your teeth, orthodontic treatment aligns your bite, ensuring ideal jaw placement. A misaligned bite, or malocclusion, places stress on the jaw. Over time, jaw disorders and bruxism can develop. A proper bite prevents your teeth from wearing down and helps alleviate bruxism-the unconscious clenching and grinding of the teeth, which results in sensitivity, chipping, and fracturing of the teeth.
Making Your Treatment Affordable
We work with zipMoney and afterPay to make your orthodontic treatment affordable. You can have a payment plan that spreads out the cost of treatment for 24 months without paying interest.
* Any surgical or invasive procedure carries risks. Before proceeding, you should seek a second opinion from an appropriately qualified health practitioner such as a Specialist Oral Surgeon.