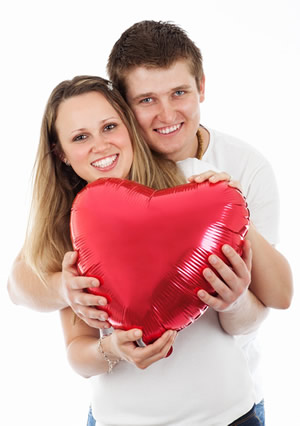 It's the time of the year that our thoughts turn to love. And if you don't love the color of your smile, February is a great time to make improvements.
Our Philips Zoom! in-chair whitening is typically valued at $990.00. During February we're offering a 2-for-1 teeth whitening special. Bring the one you love and you can both receive our teeth whitening service. That's half price.
Plus, Philips is offering an additional $50 cash back. (See below.)
Affordable In-Chair Whitening
Thanks to Philips Zoom! professional teeth whitening, you can achieve noticeably whiter teeth in one sitting. After the whitening gel is applied to your teeth, a corresponding bright light accelerates the lifting of stain particles that cause unwanted tarnish.
Unlike do-it-yourself home whitening kits, our results can last up to two years.
Ready for Valentines Candy?
If you're likely to receive some Valentine's Day candy, or you simply have a sweet tooth, here are some helpful tips.
Carry a toothbrush – Wherever the sugar cravings strike, have a disposable toothbrush at the ready to freshen things up after a sweet dessert or snack.
Use a mouth rinse – A mouthwash can help remove some of the plaque-attracting sugar. No mouthwash? Swish some plain water around in your mouth.
Chew sugar-free gum – Chewing gum stimulates the production of saliva. That can help reduce the sugar coating that remains on your teeth.
$50 Valentines Cash Back Offer
In addition to our promotion, Philips is offering $50 cash back for patients who take advantage of Zoom! In-Chair Whitening Treatment until 28 February 2019. Simply follow these five steps:
Schedule an appointment with a First Dental Studio dentist to determine your eligibility for a whitening treatment. If you are a candidate, your official Philips Zoom! In-Chair Whitening Treatment can be carried out. To gain eligibility, a professional clean, polish, and fluoride treatment may be required.
During your whitening visit, you will be given a pink Unique Code Card with your promotional code
After your Philips Zoom! whitening session, visit www.philips.com.au/zoomcashback
Complete the online form with personal information and treatment details. Make sure to apply the code you received at your appointment.
Once your documents are submitted, Philips will send you $50 cash back via cheque to the provided address. Your savings should arrive within three to four weeks of Philips accepting your claim.
*** Terms and conditions apply.
In-Office Teeth Whitening for two clients at $990 (Valued at $990 for one client). Not all patients are suitable for teeth whitening. To give the best result, a professional clean and polish and preventive fluoride treatment may be required prior to teeth whitening at an additional cost of $140. Review additional conditions. Our price of $990 for two is available until 28th February 2019.