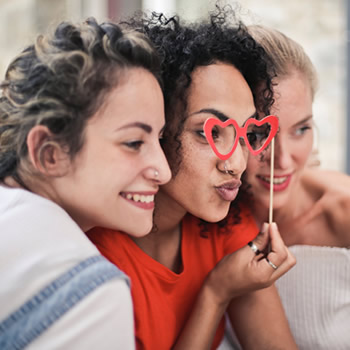 Our Zoom in-chair teeth whitening costs more than those do-it-yourself home kits. That's because you get better, longer-lasting results. And now since we offer Afterpay, your $550 professional whitening can be paid in four equal fortnightly payments of $137.50.
Seven Benefits of Professional Whitening
Now that we've made professional teeth whitening affordable, consider the benefits of having the dental team at First Dental Studio give you a brighter smile:
1. Greater confidence and self-esteem. Dull, discolored teeth tend to make us self-conscious about our smile. Whiter teeth can give you (and your career) a boost as you interact with colleagues.
2. Improved oral health. We first conduct a thorough examination to see if you're a good candidate for our whitening services. With a professional cleaning, followed by a whitening session, your teeth and gums can become healthier.
3. Sex appeal. Will a brighter, healthier smile improve your love life? That's what many patients report. And while you may not turn anyone off before your whitening session, you're sure to turn a few heads afterwards.
4. A more thorough whitening. Simply put, we have access to professional grade resources that aren't available in home whitening kits. We can resolve more severe stains and provide a whiter, more even result.
5. One session results. Our 90-minute session can be done in one sitting over an extended lunch hour. Other methods require a series of sessions.
6. Personalised approach. Home whitening kits, besides being less effective, take a "one-size-fits-all" approach. Our professional whitening service is modified as needed based on the precise amount of whiteness that you're looking for. Plus, we can target hard to get or problem areas to give you the best result.
7. Fewer side effects. Most do-it-yourself whitening kits cause collateral damage to surrounding gum tissue. Not only can this hurt, it can make your teeth sensitive to certain foods, drinks or temperatures. Our experienced whitening service is far safer for you and your teeth.
Schedule Your Appointment Today
If you've been putting off an upgrade to your smile, now's the time to take action. With Afterpay there's no reason to deny yourself the many benefits of a professional teeth whitening.
Plus, our in-chair treatment lasts up to two years. Contact us today to find out more about our Zoom teeth whitening special offer.